A RESPONSE FROM ME to some of the traditionalist critics of the papal motu proprio Traditionis custodes (TC) has been politely requested. Not because I am in any sense an expert, but out of sheer courtesy, I will do so, and I am working up to it. Perhaps my fallible voice is sought because I sit in a liturgical no-man's land, neither in the trenches of 1962 nor of 1970. 1970 (well, its 2008 iteration to be precise, or its 2011 English iteration to be even more precise) provides my daily Mass. Yet, to hold the new Mass as legitimately expressing a totally new departure from liturgical tradition—a rupture with the previous tradition to employ a current term—is to deny a fundamental mark of the Church, its teaching and its liturgy: it does not change, but it grows and takes on clearer shape and more detailed form. Thus, to hold 1962, and the centuries-old tradition it grew within, is somehow a closed chapter of little relevance today, is self-defeating from a Catholic point of view, especially evangelically and apologetically. Either the Church's teaching and liturgy is, and always has been, and always will be, true; or it is not, in which case, why should anyone listen to us?
1970 is imperfect; it embodies a very marked departure from the decrees of Vatican II; it has been attended by a laxity in rubrical observance and enforcement that is almost, surely, unparalleled historically; its use has been contiguous with a precipitous decline in Catholic practice and affiliation. Yet, the Council clearly, and almost unanimously, called for a revisiting of the Church's liturgy. It sought a streamlining, a tidying up, an opening up to some vernacular in the Mass and the other sacraments—it wanted to people to love their liturgy even more, and to participate in it even more rather than just attend it—hear it—however devoutly. The Mass, after all, is offered not only for them but, to some (real) degree, by them. Moreover, the congregation offers itself, in each of its individual members, with Christ to the Father; hear St Paul to the Romans: "I appeal to you therefore, brethren, by the mercies of God, to present your bodies as a living sacrifice, holy and acceptable to God, which is your spiritual worship." (12:1)
So sticking with 1962 as it was, itself a revised Missal, was not really a long-term option. 1970 is valid but flawed. Much of what gave power to the traditionalist programme to adhere to 1962, what made it all the more attractive to those not versed in the finer points of liturgy, was the woeful celebration of 1970 in so many places, and for a time perhaps in all places. The chaos of a circus liturgy, subject to the whim of a pastor, attended by wholesale rubrical abandonment, inevitably made the rubrical order and unmistakable divine focus of 1962 all the attractive, a port in a storm.
That is why I sit roughly in the reform-of-the-reform camp. Even more, I look to the Order of Mass of 1965 (OM65) as embodying a liturgy both organically traditional and yet manifestly a fruit of the decrees of Vatican II. More than any liturgy that came after it, OM65 can lay the best claim to being the "Mass of Vatican II." The indult granted at the request of Cardinal Heenan—aka the Agatha Christie indult—by the Miss Marple-loving Paul VI in response to a public appeal by the great and the good, not all of them Catholics (notably including Agatha Christie), to preserve the substance and ethos of the Church's liturgy, did not permit use of 1962—it permitted the use of OM65 with the modifications made in 1967. This liturgy was in clear identity with the Church's liturgical tradition in a way that 1970 was manifestly not. Archbishop Lefebvre himself celebrated OM65 even as he broke with Paul VI and set in motion his Society of St Pius X.
The greatest mistake—on the level of strategy at least—was the decision to forbid totally the celebration of the old liturgy. Totally, that is, except for the English able to make use of the Agatha Christie indult and some ageing clerics to whom some solicitude (grudging though it was) was shown. Tactically it was intended to ensure that everyone engaged with and, hopefully, learned to love (or at least tolerate) the new liturgy. But strategically, the prohibition so immediate and so exhaustive, it broke many a bruised reed. If the new Mass was so wonderful, it would have been able to stand on its own and win the recalcitrant from continuing celebrations of OM65. The prohibition betrays a telling lack of confidence in the product by its vendors.
In a little noted address on 13 August, Pope Francis, under cover of chiding (yet again) religious men and women who do not laugh enough—"It is so sad to see consecrated men and women who have no sense of humor, who take everything seriously"—and in the immediate context of the need to adapt to local cultures, he said this:
We have seen this, for example, in the misuse of the liturgy. What becomes important is ideology and not the reality of the people, and that is not the Gospel. Do not forget the pairing: inculturate the faith and evangelize the culture…

It is a good idea to renounce the criterion of numbers and efficiency, since otherwise it can turn religious into fearful disciples, trapped in the past and suffering from nostalgia. This nostalgia is fundamentally the siren song of religious life.

Video message to the Latin American Confederation of Religious gathering on 13 August
The attachment (to employ TC's vocabulary) to the 1962 liturgy is thus equated implicitly to joylessness, nostalgia, ideology, fear. The nostalgia is not, as he sees it, benign, but at best a nostalgie de la boue. Of course, he does not mention 1962, but in the context of the massive controversy following TC's publication, 1962 is clearly in his sights.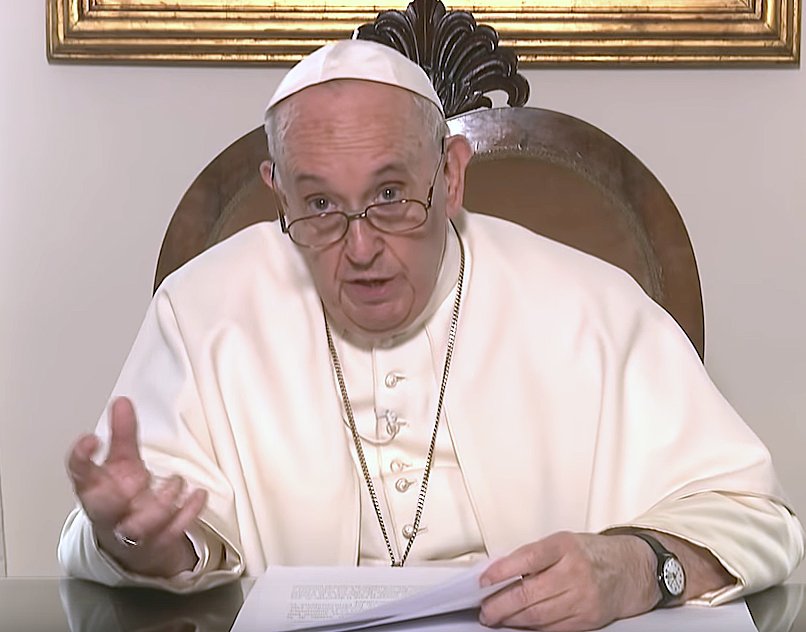 In effect, he has doubled down on his intentions with TC, and he has signalled to consecrated men and women who are attached to the pre-conciliar rites that they are also in his sights. It is all of a piece with similar sentiments expressed since he became pope. However, TC gives them a much sharpened edge and focus. It is hard not to see in this a thinly-veiled warning to all religious congregations who adhere solely to the pre-conciliar liturgy: Traditionalism is the siren song of religious life, and it is he who will be the rocks against which it will dash them.
Let them hear who have ears to do so, and see, who have eyes to behold it. I fear things are going to get messy rather soon. The sad and sorry tale of Silverstream will no doubt be grist to the papal mill.